Personnel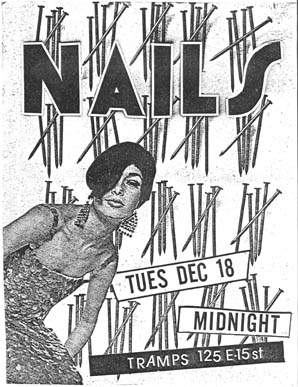 Marc Campbell - (www.marccampbell.com) The straw that stirred the drink. I've never met a more creative, visionary character. Also a bit self-destructive (aren't we all) and definitely an underachiever. This, despite tremendous accomplishments both in fashion, design, business and music as well. We keep in touch, he's one of my dearest friends. He's been a tremendous inspiration and also cause for consternation. Marc has never "played the part." He only knows how to "live the part." And that is one of the biggest and best lessons he taught me. He once harangued me when I showed up at a rehearsal back in 1978 in bell bottoms and a polyester shirt (the waning years of the 70's). "Listen, you can't just dress up for the gig. If you're going to play Rock and Roll you've got to LIVE Rock and Roll," he told me. He had already adapted what would be the 80's look: "cockroach stomper" Doc Martins, stretch, stiletto black jeans, So I began to live the part. I looked like a rocker when I went out to the deli to get a six-pack. And we lived that life in the heart of NYC for many years and many, many gigs. Marc also taught me how to listen to myself. In the early days, Marc could write 5 songs over the riffs that Steve, Dave or I played when we warmed up. Steve would be warming up with his back to us and he plays something and Marc comes running over. "What did you just play?" Steve would answer, "Nothing, I'm just warming up." And Marc would say that's a great riff let's make a song out of it. A lot of times Steve (or me or Dave, as the case might be) couldn't even remember what we were doing because we did it so mindlessly. But when we caught on, we realized we didn't have to venture very far from our warm ups to find ideas. As a lyricist, he's second to none, conjuring up Dylan, Leonard Cohen, Hendrix and Charles Bukowski often in the same breath. I've always been amazed at the phrases he could turn and images he could conjure. In the past I had worked with lead singers, but Marc was not just the singer, he was the artistic leader, with a vocal style borrowed from Lou and Jim with a dash or Tennessee Ernie Ford, Jimmy Dean, Elvis and Barry White for good measure.
Dave Kaufman - Co-founder. Keyboard wizard, MIDI master, all-around creative guy, tunesmith and arranger, my brother, funnyman. Dave was my partner-in-crime in the project studio and pro studio for many years. We honed our producing and engineering skills together. I relied on Dave to get me through the MIDI side of things when I did Corpus Christi. Dave's style is definitely "minimalist." Dave used to brag to me that he was honing his style down to where the perfect part would be one where he played nothing.
Steve O'Rourke - Guitar extraordinaire. In our heyday, Steve looked the part and played the part too. (He walked the walk and talked the talk). Steve and I played together as if we were joined at the hip. Steve is one of my favorite guitar players. He can do more with one strum than most shredders can do with their whole repertoire. I jammed with him recently and it like riding the proverbial bike, I can fall into lockstep with him no matter if I play bass or second guitar. Every time we get together it's like seeing a long-lost brother.
Douglas Guthrie - Alto and tenor sax. Simply put Douglas was one of the most electrifying performers I have ever seen, let alone work with. A truly original talent on alto sax. A King Curtis meets Burning Spear. Oh man! Could he wail. I blew trombone with him for a couple of numbers each night and it was a thrill. Douglas joined us early on and played on all the recordings except Corpus Christi. Douglas is featured on our first single, Transcontinental Ska. If playing can be divided into cool and hot, Douglas was definitely Hot (Mucho Caliente)! Unfortunately Doug and I had a falling out many years ago over a project we worked on together and after that I couldn't stomach the thought of him. But that was many years ago and it was really insignificant in the scheme of things. My brother sees him from time to time. I kind of miss him. Hope he can still play.
Mike Ratti - Our live drummer and played on the Dangerous Dreams and Corpus Christi albums. Meticulous, and hard banging, but loose as a goose.. A real rocker. Mike was my roomie and partner in the rhythm section. Mike took Denny's work from the first album and made it his own. I'd describe his style as "muscular."
* * *
Drew Perkins - Fiddle and mandolin on Let's Commit a Sin from the Corpus Christi album. Fabulous player. He could do no wrong in my book. Now a Nashville session guy.
Soozie Kirschner/Tyrell - electric violin on The Veil and Darkness Grows Uncivilized and backing vocals on Dangerous Dreams all three songs from the Dangerous Dreams album. Soozie is currently on tour with Bruce Springsteen.
Boris Kinberg - Latin percussion player. Played live and on Juanita and Dark Brown from the Mood Swing album. Boris was a great player - Latin but with a rock feel. A real gentleman too.
Dennis McDermott - Drummer on the Mood Swing album. Denny has recorded with Rosanne Cash among others. A drummer's drummer. I get to chat with him from time to time. The consummate pro.
Connie Garcia - Vocals, backing vocals during our Ska days (back in the early 80's). Connie sung the vocal on the Hotel for Women EP.
Neneh Cherry - I know you're wondering what she's doing here. Well besides having a top 10 hit a few years back, she's the daughter of the late Don Cherry, influential jazz trumpeter and for a brief time was the second backup singer along with Connie.
Peter Darmi - Grammy Award winning engineer, known as George Benson's engineer. Pete engineered our first record, "Transcontinental Ska b/w Young and Wild." Pete came out of the broadcasting industry. He was a true talent who contributed greatly to that project, then went on to be quite successful.
In Memoriam: Tommy Cotogna - Our original drummer. He left the band just before we started Mood Swing, due to personal issues. I learned recently that he tragically passed away last year (2004). Rest in Peace, Tommy.