The Yonkers Military Band
Frank Cardone, Leader - 914-476-2907 (for bookings)
I met Frank Cardone, the leader of the Yonkers Military Band on a shuttle bus at a parade in Sleepy Hollow, New York. He asked me if i was available and I told him I was committed to the Port Chester Legion Band but if he had a date that both band weren't playing, I'd be happy to. To Frank's credit he called me for a lot of dates that conflicted but eventually we hooked up. I've managed to make about 4 or 5 of Frank's dates each year and what treat. Frank's musicians are first class players and the band (even his small 12 piece ensembles) sound great and are a cut above the rest.. Frank is a sweet sounding baritone player and his band has a great clarinet section. The clarinets are my favorite. Also the Yonkers Military Band has some very nice parades in mid-town Manhattan and I like playing to those New York City crowds. Recently Frank has honored me by inviting my son to join on a nice gig in Nyack, NY. I'm tickled pink to be playing together with my son in Frank's band and my son was so impressed with the way Frank and the band members treated him like a young man and young pro that he is. I look forward to many more dates with this first class musical group.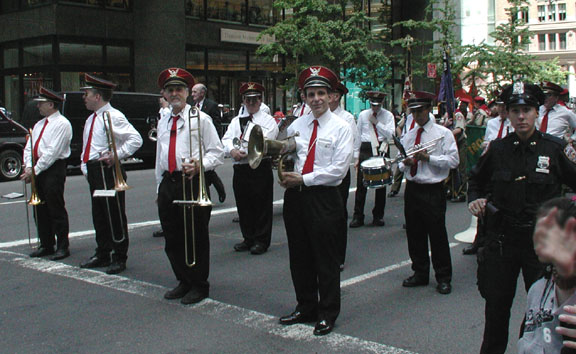 Line up for Turkish Day in NYC.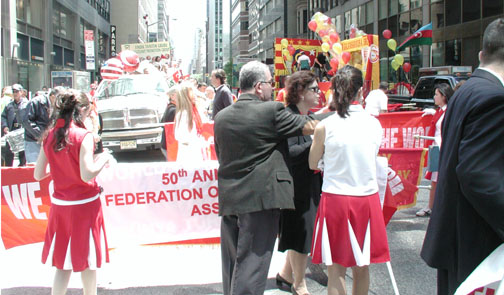 Ahead of us at the Turkish Day Parade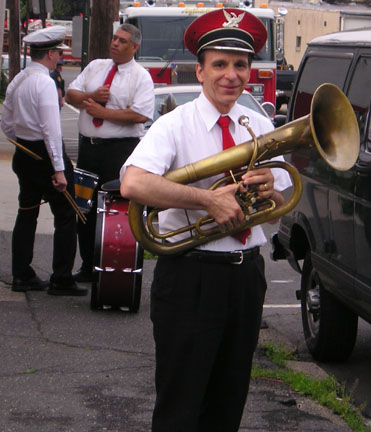 Frank poses for me in Nyack, New York, John and James
in background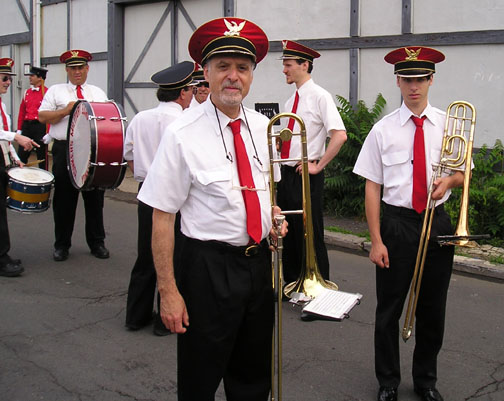 Father and son, Michael, who plays my (now his) 35 year old Elky 88H. I'm
playing a Bach 36.