Recording Session: United States Merchant Marine Academy Band, Conducted by Captain Kenneth R. Force - August 2006
It was almost five years ago that I was invited to play on a recording session with the Merchant Marine Band with Captain Force conducting. See Music of Marines. A lot can happen in five years: unlike the first session I can now fluently read Bb treble clef from teaching trumpet and tenor sax during the past few years. My sight reading and valve technique (I played baritone) have greatly improved. And my son, Michael, a high school senior has become an accomplished trombone player (he made All State Band this year) and he was also invited to play trombone on this session.
That's the good news - improved technique. The bad news was the music was harder. Check out "Bravura" below. Enjoy the selections below.
Office of the Day - Track 13 (Streams)
Office of the Day - Track 13 (Download)
Bravura - Track 18 (Streams)
Bravura - Track 18 (Download)
La Mer (By the Sea) (Streams)
La Mer (By the Sea) (Download)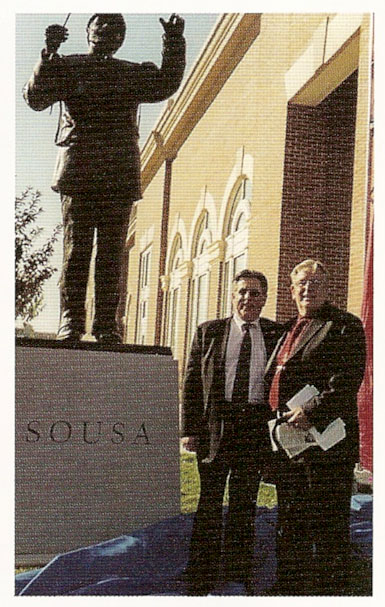 John Philip Sousa IV and
Capt. Force at the Sousa statute in
Washington, D.C.