Sound Chip Modules
FOR DISPLAYS, DEMOS, AND ENGINEERING SAMPLES (Sound, light and motor control), Greeting cards with sound.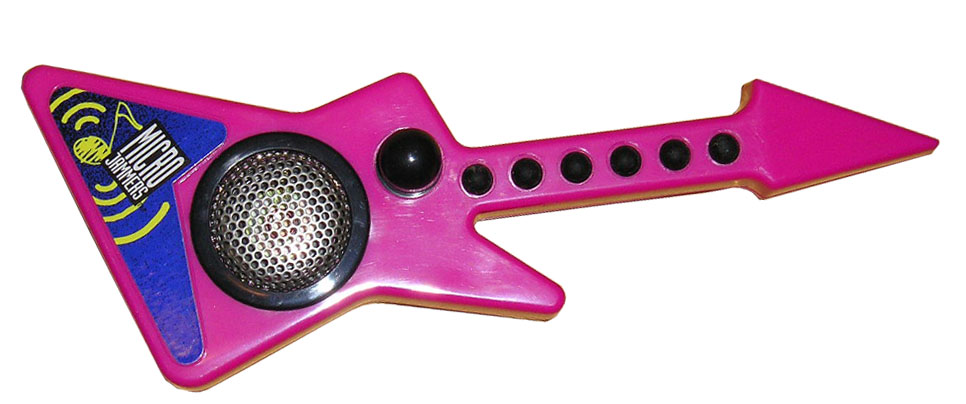 "Pink Microjammer" - toy rock guitar. My crowning glory, as featured in the movie Jerry Maguire, starring Tom Cruise.
Affordable, low cost sound chip modules for displays, POP displays, trade show demos. Can be used by inventors, engineers, model makers, designers and tinkerers. Quick turnaround. As pictured below or expertly installed into your prototype. Supply your own audio material or let me supply the music and sounds sounds from my huge (over 30,000 clips) sound effects library or stable of voiceover artists and musicians. Units can be powered by A/C (mains) wall-wart, AAs, AAAs or button cell batteries. Offered with a variety of durations, speaker sizes and enclosures from button cells and 20mm speaker, to "Big Bertha" with 3" speaker and C batteries-A/C. Also available with up to 4 LEDs, light bulbs or motor control are available in any combination, which can be custom timed, flashing or steady. Connect to motion detector, pressure mat, light sensor, push button, tilt switch, etc. These sound chips can be custom programmed to have complex functions and timings. These modules can also be connected to line level devices (mixers, boom boxes, stereos, powered PC speakers and powered PA speakers) for all the volume you need. Any real world sound or recording can quickly be encoded. Need a special character voice, tune or sound effect? I can do that too.
Greeting Cards with Sound Chip. My card modules can play real-world sounds, music or recordings. Don't confuse this item with those horrible sounding melody chip cards. My module produces MP3-quality sound. I have turn-key products awaiting your artwork and sound files.
Looking for a Nice Gift? Follow this link: Blank Greeting Card with 10 second Recordable Module. Excellent for scrapbooking.
Custom Sound Effects and Voiceover Services for film, video, TV and radio. Character voices, sound effects sweetening, music beds from stock or custom creations. I've done the sound for nearly all the TV commercials made for the TV dolls shown in my gallery of products.
Call or e-mail for details.
Supreme Sound and Engineering
914-934-2699
info@gmkmg.com
Follow these links for more information about me, my company and the services we provide:
SUPREME SOUND AND ENGINEERING
WWW.GMKMG.COM
WELCOME TO SUPREME SOUND AND ENGINEERING
PRODUCT GALLERY (products I have brought to market)
Bare board demo module, with leads, 29mm Mylar speaker in enclosure.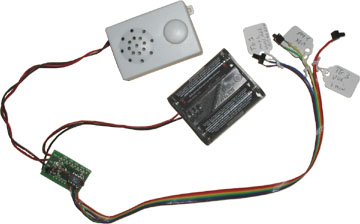 Black box demo module with pushbuttons. Small white speaker housing for bare board module.