Mastering "Mood Swing" and "Dangerous Dreams" at
Sony Studios, 54th Street and 10th Avenue, New York City
September 14 and 28, 2006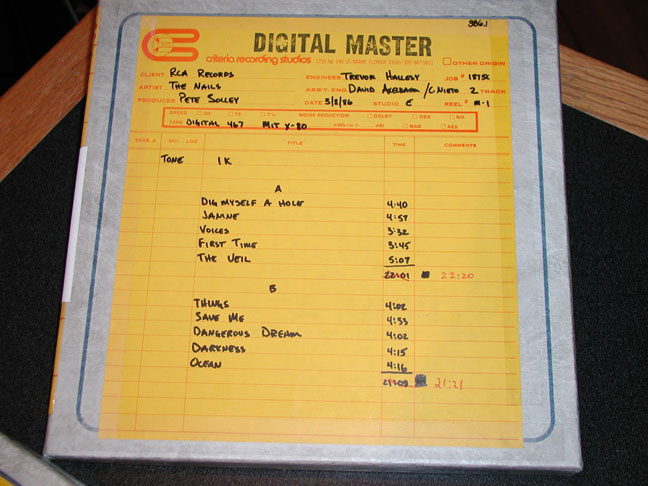 This is the story about a "dream come true." You have to go way back to 1984 when the Nails were signed by the venerable RCA records, recording our first album that year and recording our second album in 1986. RCA went out of business when GE acquired NBC Corp. (RCA's parent) and left us "un-associated." Not having a label didn't bother me as much as the realization that the two really excellent albums that we worked so hard to record didn't belong to us. The songs still belong to us, because we kept our publishing rights but the recordings belonged to RCA. But there was no longer an RCA. RCA had been absorbed into BMG (Bertelsmann Music Group). I believed in the albums and neither record had been properly marketed. Meanwhile in the early '90s through the present, I had become involved in, among other things, the "licensing business." So from time to time I'd mention to my brother, Dave (band member, composer, keyboards and administrator of the Nail's publishing company, City Beat Records Inc.), that I'd like to find someone at BMG who I could pitch a licensing deal for the masters for both albums. For years, attempts to contact BMG were unsuccessful. We tried approaching them through our music attorney but never was able to raise a reply. So my "dream" to own and control our recordings remained that. Just a dream. Through the years we were able to successfully license our songs and music for commercials (including our famous Mazda car commercials, which one a Cleo). I also have years of ASCAP royalty statements, that show that Nails music has been played continuously world-wide for the past 20 years. From time to time I would repeat to Dave that I would love to license those masters and get the records back in circulation. And another thing. We recorded on the cusp of the digital audio revolution. Our first album, Mood Swing, was 100% analog and was released only as a phonograph record. By 1986 when CDs were just beginning to take hold, our second album, Dangerous Dreams, was recorded on a Mitsubishi X-86 digital 32-track machine. This machine was the recorder to use in that era but it was a strange bird. Two inch reel-to-reel with a fixed head. Even though Dreams was digitally recorded RCA only released the record as a phonograph record. (Above-left - the precious cargo - X-80 digital master of our second album from 1986.).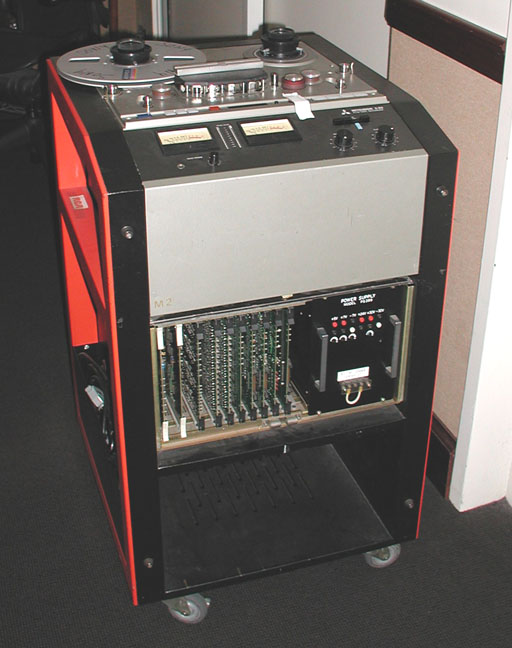 [Left - Mitsubishi X-80 Digital 2-track. 1/2 inch reel-to-reel, fixed head digital recorder. The tape also had an audio track. You could scrub the reels and CUT and SPLICE the tape. I saw our engineer do it! There must only be about 4 of these machine available world-wide.)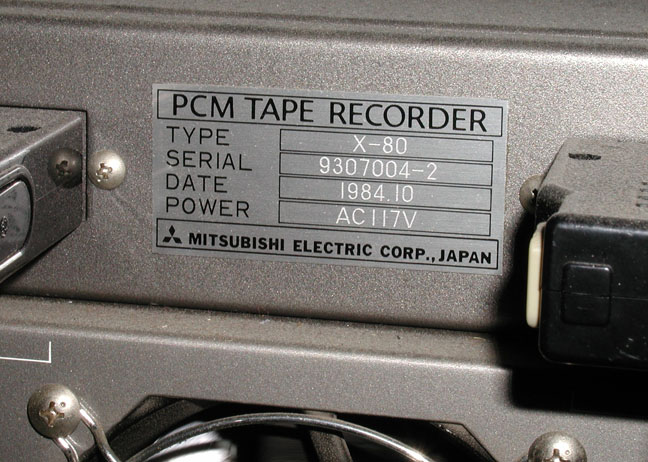 But then the tide changes. About a year and a half ago, my brother rings me up and says, "Hey, Sony has acquired BMG. Should I contact Sony about our masters?" "What the heck...," I say. So Dave writes a "to whom it may concern" "snail" mail letter and wonders of wonders, he gets a reply. The e-mail had been referred to a young lady in the licensing department who was completely willing to help us get our deal.
In licensing it boils down to making a reasonable offer (we're paying them) and a road map for how we (the licensee) is going to make money and therefore make money for the Sony (the licensor). Dave and I conferred. I put together the "package" that we wanted and Dave handled the actual contact with Sony. It took about a year to hammer out the licensing deal we wanted. We weren't negotiating all that time, but people get busy, then things slow down over the summer with vacations, etc.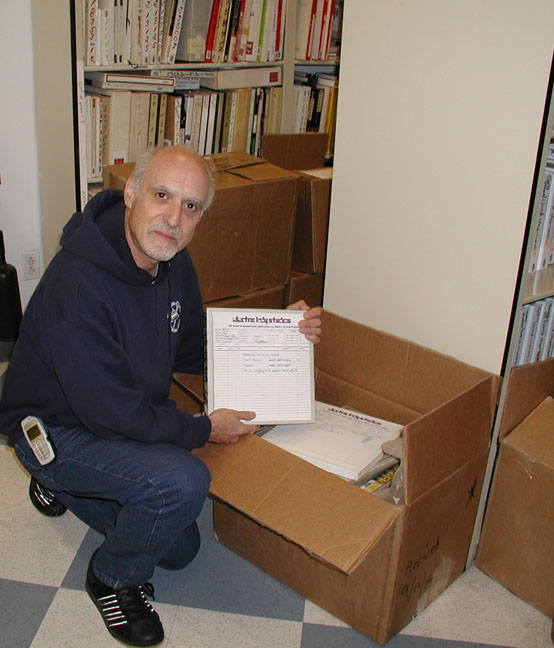 So it was early Fall and we had completed the deal that gave us the rights to our masters and now we needed to find a suitable mastering house. We were limited by Sony's requirement that any mastering lab be a Sony "approved" facility. Sony will not release the masters to the licensee. In fact Sony doesn't even ship masters anymore. (They are couriered). Seems, that a precious master was lost in shipping. This problem was compounded by the fact that our second album was mixed onto (what is now) an exotic format, the Mitsubishi X-80 digital 2-track. So not only did we need an approved mastering house, but one with an X-80. We checked out all possibilities. There was a mastering house in Toronto that had the X-80, but we didn't want to travel. My brother contacted the legendary Bob Ludwig at his lab in Maine and he's booked up for the next year, but you can have one of his underlings with only a 6 month wait. All this time our contact as Sony keeps reminding us that we can master at Sony's mastering lab at their huge studio complex in New York City. Sony was very aggressive at wooing us to use their facilities. They had the X-80, they were close by, they were Sony and, finally, they offered us a sweet deal at 50% of the cost of the other "approved" NYC facility, Sterling Sound. The price was right, the location was right and they had the X-80 machine. So to pick out an engineer. (Above left - me and the precious cargo - our masters. And not just the "pulls" (finals) but every test mix, alternate, subsequent takes, radio mixes (with bad words bleeped out), etc. About 4 cases of tapes.)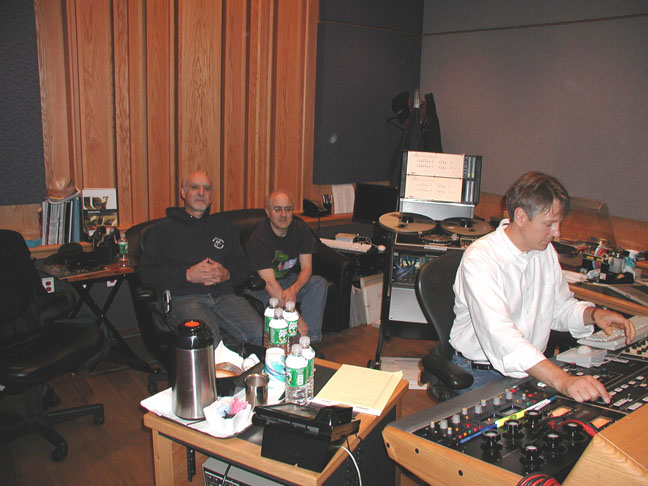 Sony's mastering engineers are very busy. It boiled down to two guy's with rock credentials. We picked Vic Anisini, senior mastering engineer, 18 years experience. Vic has mastered everything from Johnny Cash to Aerosmith to the Clash to Wu Tang clan and hundreds of other albums. Vic's specialty is re-issues and archival recordings so he was perfect for transferring the tapes to CD.
(Left - Vic twiddles the knobs while I and Dave do what you do in mastering, listen - and consume coffee, tea, bagels, fruit, sandwiches and the obligatory bottled water.)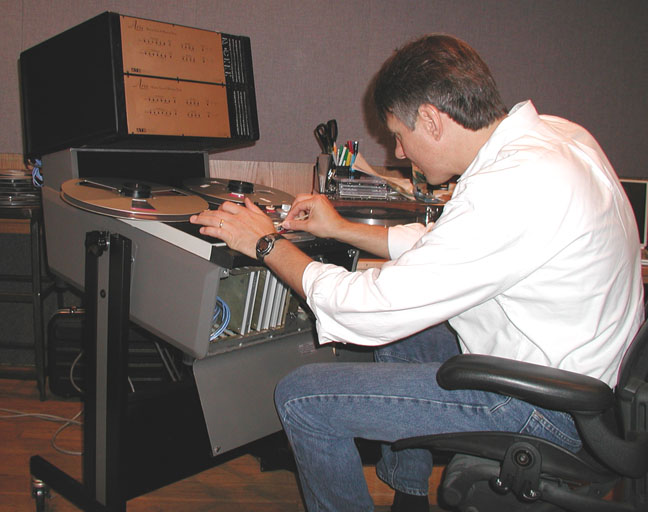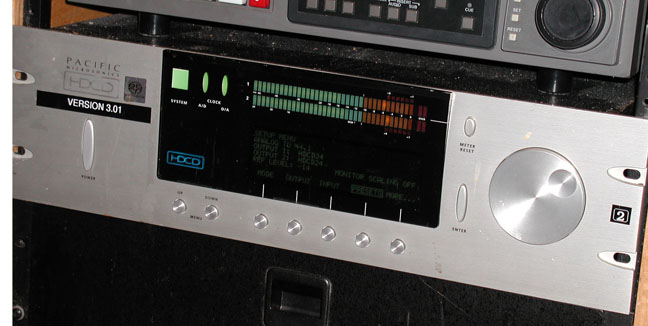 Left: Vic cleans the heads on the Ampex 2-track. Right: Pacific Micronsonics converters. Cost: $25,000 if you can find one.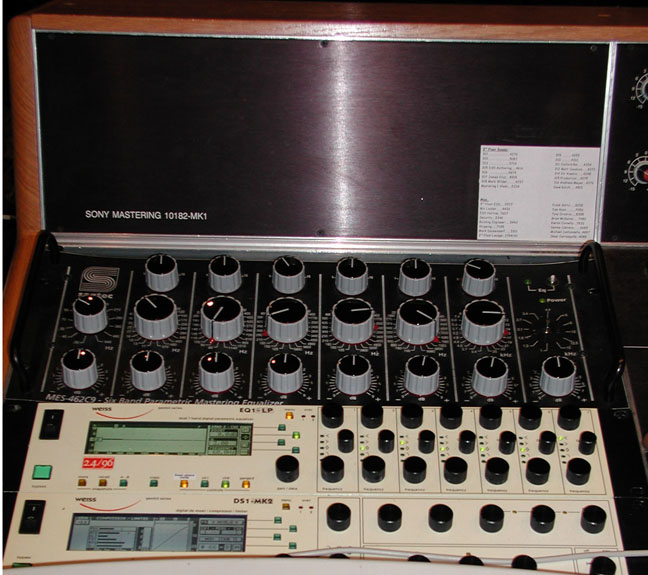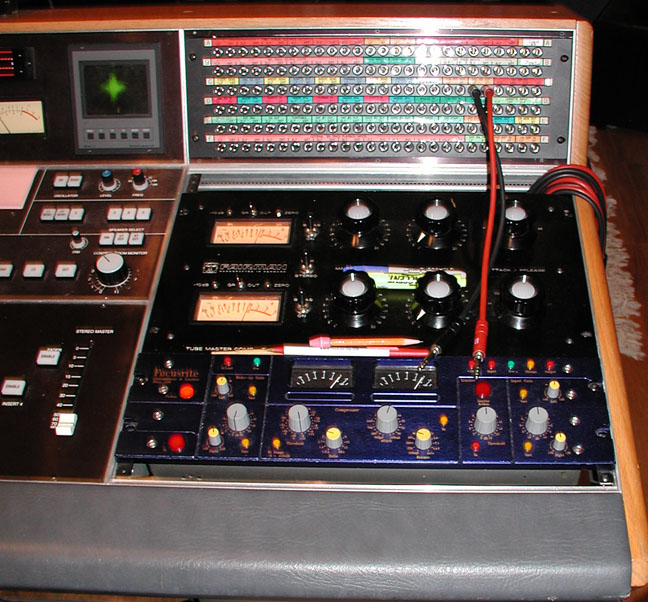 Left side of console (left top-to-bottom: Sontec MES 462C9 EQ, Weiss EQ1-LP digital equalizer, Weiss DS1-MK2 digital compressor/limiter). Right side of console: Fairman TMC Tube Compressor, Focusrite Blue 330 compressor/limiter)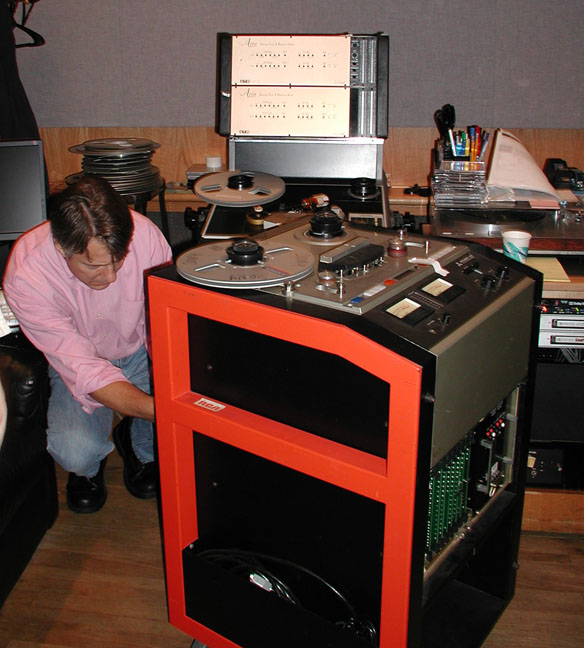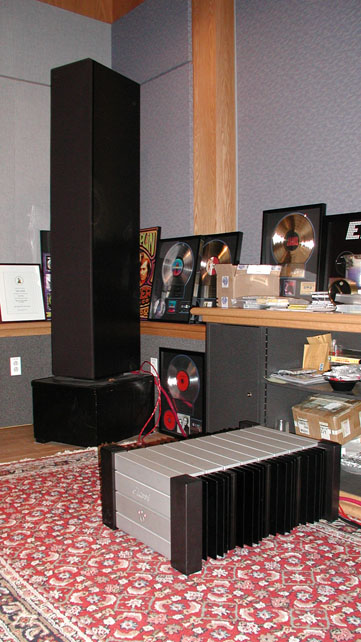 Above left: Vic hooks up the X-80. Above right: Dunlavy speaker and Classe power amp. Who ever head of this stuff?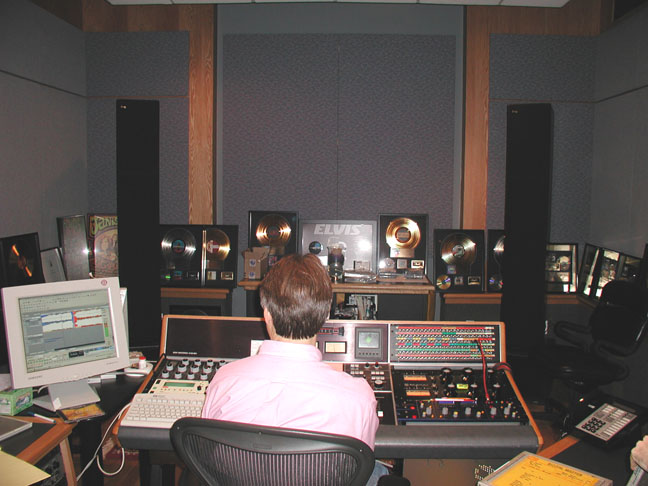 A Vic's eye view of the festivities. This guy has a work ethic! On the Mood Swing session, I swear he ran on tea, a bagel and one trip to the men's room at about 2:30 p.m. At around 1:00 p.m., Dave and I had to take a break and get some air and some real food. The software is Sequoia. The console is a custom GML/Sony analog transfer console. The room's acoustic design is by George Augsperger. (I never did ask Vic if the gold records were important to the sound of the room. :-) )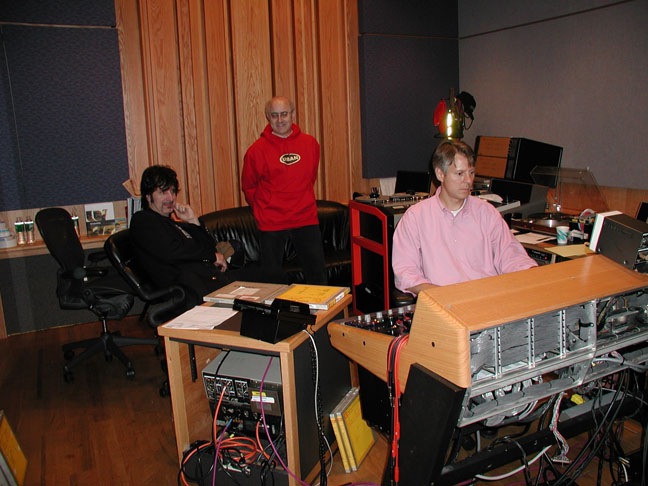 Above: Steve O'Rourke (Nails' guitar), dropped by to "lend and ear."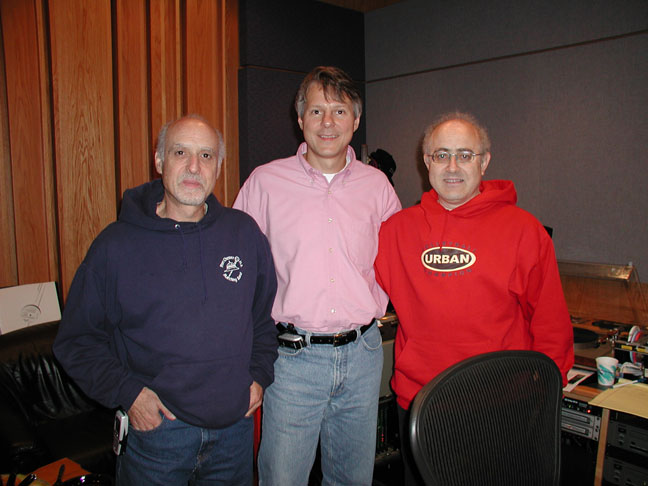 Above: Me, Vic, Dave. We're all smiling because it is the beginning of the session.
THE TECHNICAL STUFF (or skip to the bottom and take the Sony "nickel tour")
We worked on two albums at on two different days about two weeks apart. The first album was our debut RCA album, Mood Swing. I considered digital mastering of Mood Swing to be an "archival" mastering job. Dave and I (and the producer and engineer) did the original phonograph record mastering at Sterling Sound twenty years ago. Mood Swing sounded exactly like we intended it and to this day it is a very good sounding record. So we intended to bring the sound of the phonograph record with the increased dynamic range and clarity of digital.
There were three sources: the Master (1/2 2-track 30IPS), an EQ'd and compressed dub (copy) of the master (1/2 2-track 30IPS) made by the mastering engineer and a clean copy of the original phonograph record. First Vic transferred the EQ'd/compressed master copy to CD using a CD recorder (Sony, of course). Then he cued up the actual Master on the Ampex 2-track, cued up the record on the turntable and cued up the CD of the EQ'd/compressed dub. Then, one-by-one he started the turntable, EQ'd/compressed dub and the Master so they were each playing about 2 measures behind each other. Then by using the source switching buttons on the console Vic would switch between the 3 sources which would play the same section in succession. From time to time Vic would check with us to see if we wanted to "go further." It was pretty easy work because Mood Swing was a well-recorded, mixed and mastered record, having been recorded in the best studios with one of the most-experienced engineers in the business and then mastered at the top mastering house in New York City. A little bit of 7K boost was added with the Sontec EQ and no additional compression. It should be noted that Mood Swing was mixed on an SSL4000E console that has a compressor on every channel. We took advantage of the abundant channels of compression during the mixdown stage. Because this was an "archival" mastering job, we eschewed "maximizers." The space between the tracks was kept the same as the original phonograph record, with the standard 2 seconds between sides. Each side was treated as a single piece of audio with track markers dropped at the start of each tune. This way the spacing between the songs was maintained.
After finishing the transfers, Vic sent us CDs to evaluate. The CD sounded fantastic, we signed of and prepared for the next session.
The situation with Dangerous Dreams was different. RCA had the mastering done out of town (at the studio where the it was recorded). I rejected the test pressing that RCA submitted for our approval and demanded that it be re-mastered. To RCA's credit they did that, but it still wasn't up to my satisfaction. So (remembering back to 1986) I felt like they "crammed" a mastering job down our throats that could have been much better. So I wanted make amends. While this sounds like Dangerous was a flawed recording, it was anything but. However, there were a few specific spots that needed "work." There was one tune that didn't sound like it was recorded in the same studio or was mixed with the same EQ as the rest of the album. Additionally this tune, a pounding number, didn't pound like it needed to. Additionally there were a couple of tunes whose intro's hit the listener too hard that needed adjusting.
To make matters a little more interesting, we had recorded Dangerous on what is now an obsolete recording system, the Mitsubishi X-86, 32-track digital tape recorder with fixed heads. Mixdown was to the Mitsu X-80 2-track digital recorder. So the honored guest for the Dangerous mastering session was the X-80 machine (see the pictorial above). A few words about the X-80 machine. No one in the industry has any idea what digital format this machine used. Further, the massive connectors on the back of the machine won't mate with any modern digital interface. So transfer is done through the X-80's analog outputs.
After we the initial mastering session, Vic again sent CDs and he and I spent about 2 weeks going back and forth to fix the level adjustment and pump up that tune.
It was a pleasure to be able to walk out of the mastering sessions and know that the "die had not been cast." That I could evaluate the mastering job in my own studio on speakers and equipment that I was most familiar and then be able to make additional changes to the master. In the "old" days you had to make a commitment at the mastering session. You wouldn't know for sure if that commitment was on the mark until you received a test pressing from the record pressing plant. At that point to backtrack back to mastering was an expensive proposition but worse you could miss your production schedule and be bumped out of line at the pressing plant. But today there is no "test pressing." The CD master is the CD. You send it to the CD plant and they do the production run. They'll send you a printer's proof of the artwork but as far as the record is concerned, they make exactly (bit for bit) what you send them. No one listens to anything at that point.
To date, the masters are completed, artwork completed and CD manufacturing bids are being reviewed. I have to say, while the phonograph records sound very good, the CDs are sparklingly clear with a level of detail that the phonograph records never had. I beam with pride when I hear those CDs because I have brought our music back from the depths of the abandon mines in Pennsylvania (where they archive Sony's tape collection) so our music can once again "see the light of day." Look to our band web site www.the-nails.com for upcoming news about the impending release of the records.
TAKE THE SONY STUDIOS NICKEL TOUR