Port Chester High School Marching Band - 2004-2005 Season
Band Camp - August 2004
Band camp (the last two weeks of August) rivals football as an incredible workout. The first week is spent hashing out the music. The musicians rehearse in separate sections from 9 a.m. until 12 noon. Then a half-hour for lunch after which the whole band convenes for an hour or so to put the whole thing together. It's a lot of playing for one day and I was exhausted. The second week at a local park is from 7:30 a.m. to 4:00 p.m. to hash out the drill. My respect to the kids who participate. It's a grueling schedule all day in the hot sun. We have started school and the competition season. I will be updating this page with some pictures of the "finished" product.


The winds working together.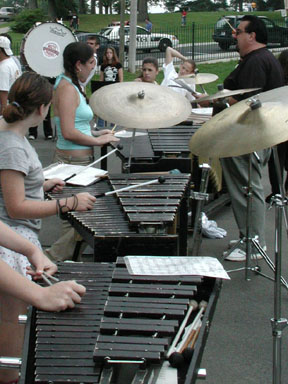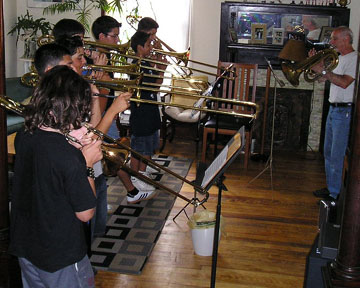 Director Viti and the "pit." Mr. Kaufman conducts an extra trombone sectional.


The "pit" and "battery."


Blocking the drill.