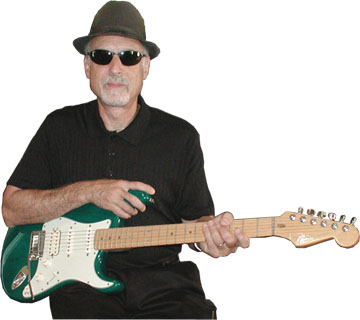 My Most Recent Recordings
These MP3s are copyrighted works and are made available here for personal use only. Downloading these songs does not bestow a license or right to use for commercial purposes.
Vocals
A Simple Thing For You (2007) (c) 2007 Supreme Sound Music Co.
Alright so 2003 is not so recent (referring to my "most recent recordings" title above). I was surprised when I checked my own page that I hadn't posted anything new here in years. That doesn't mean I'm not productive, after all I work with digital audio content creation daily and I get to play quite a few gigs. But it takes a big commitment to create a song, write an arrangement, perform it on the recording and engineer it. The toughest part being writing the song. This recording was done completely "in the box" using Cakewalk's Sonar 5.2 Producer Edition, with various plug-ins, samplers, virtual instruments and my guitar and bass playing through software guitar and bass amps.
This tune started out as a blues exercise I created for two of my guitar students. I recorded at 85BPM so it would be slow enough for these "advanced" beginners to keep up with. The exercise consisted of a single string that crossed two strings and had a bend, the next element was picking a chord as an arpeggio (A7), then a simple lick for the V7 and finally a two-finger descending blues (pentatonic) lick in first position. I made this up at a lesson and a couple of days later I decided I would record it and make a CD for my students, which I did.
When I listened back, I found the slow loping tempo and the simplicity of the licks to be a hook. So, keeping the feeling and using the rhythm track above, I decided to develop the track into a full-blown production. And this is what I came up with. Hope you dig it.
A Simple Thing For You (streams)
A Simple Thing For You (download)
(This file is 3.3MB)
Short example of the underlying guitar lesson:
Slow Blues Exercise 45 second clip (streams)
Slow Blues Exercise 45 second clip (downlaod)
(This file is 900KB)
(You've Got To) Find Your Own Way (2003) (c) 2003 T-Twins Music Co.
This is not my typical style but a little electro-pop never hurt anyone. I just "went with it" and came up with a message of self-determination (a concept that I teach). As for the vocals, I do my best (and will get better). But for now just imagine that Midge Ure (of Ultrvox) is singing (with a lilting English accent). Except for vocals, no other instruments were used other than the computer itself.
(You have to) Find Your Own Way (Streams)
(You have to) Find Your Own Way (Download)
(This file is 4.4MB)
Instrumentals
Why instrumentals? Easier than writing lyrics and singing.
Boogie #3 (2002) (c) 2003 T-Twins Music Co.
Boogie #3 (Streams)
Boogie #3 (Download)
(This file is 4.4MB)
"Dance to the boogie, get down
'Cause boogie nights are always the best in town."
(70's disco tune)
Call me "trad"; call me "retro" Just returning to my roots.
The boogie style (the granddaddy of boogie-woogie), along with folk songs are some of my earliest influences. The feel can be best described in the music of John Lee Hooker and in the pop world, Norman Greenbaum's "Spirit in the Sky." For techies and those who might care: Notes
Yes, there is a Boogie #1 and Boogie #2 (coming soon).

Isle Mysterioso (3/2000) (c) 2003 T-Twins Music Co.
Isle Mysterioso (Streams)
Isle Mysterioso (Downloads)
(This File is 3.02 Mb)
I was inspired to write this tune after hearing Dick Dale's Miserlou (the tremolo picked surf tune from Pulp Fiction) on a TV commercial (for Taco Bell, I think). I thought, "Hey, I should do a tune like that." You know with that tremolo picking style. I came up with the riff in A min. I coupled it with a "rumba blues" style rhythm. I meant it to be a surf tune, but it turned out dark, mysterious. It has one of my trademark "uplifting" drawn-out simultaneously ascending/descending bridges. Notes
The Commander (1999) (c) 2003 T-Twins Music Co.
It is not really an instrumental. It's a track to a song and candidate for our next Nails album. Marc Campbell, wrote words and even had sung a live demo, see below. This instrumental version was meant to be a "proof of concept" - something less than a demo so the drums were left pretty basic. It's repetitive so that Marc could use the backing track to write his lyrics. I was going for Slash-style playing in the bridge and in the outro. Notes
The Commander (Streams)
The Commander (Download)
(This File is 4.4 MB)
The Commander - Live rehearsal (Streams)
The Commander - Live rehearsal (Download)
(This file is 3.0 MB). Marc is freestyling here, but you get the idea of how the song will form.