Port Chester Middle School Jazz Band
Black History Month Assembly
February 18, 2005
Port Chester, NY
One of my most favorite things is playing with the jazz band. I've worked with the middle school musicians for 3 years. And I'm very happy with the results. I've developed some wonderful friendships with my students. I've seen them make big improvements. The biggest and best trombone and baritone players are moving up to the championship high school marching band. They represent the first wave of alumni from my middle school program. I have to give special thanks to Director Ken Kraut for allowing me to work with his students and for encouraging me to do so. Also I'd like to commend Director Kraut for the fantastic performance he got out of these young musicians (and one "old" musician). Listening to these guys play is its own reward.
The occasion was the commemoration of Black History Month. Besides the jazz band, there were step dancers, a church youth choir and some very thoughtful and to the point speeches by the community elders. Closing out with a big voice baritone singing Swing Low Sweet Chariot. It was an inspirational day.
Listen to the Port Chester Middle School Jazz Band play Benny Carter's Easy Money.
EASY MONEY - STREAMS (3MB)
EASY MONEY - DOWNLOAD (3MB)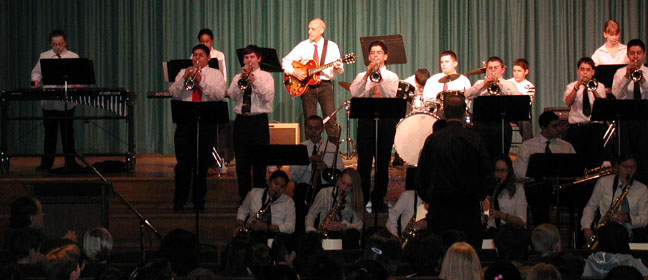 I swear I didn't bribe the lighting guy or pick that spot. I was wedged between the keyboard amp and
the ride cymbal. LOL.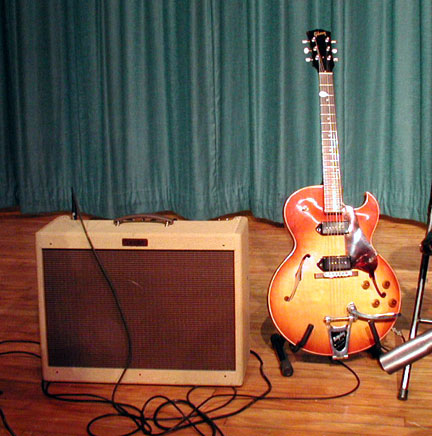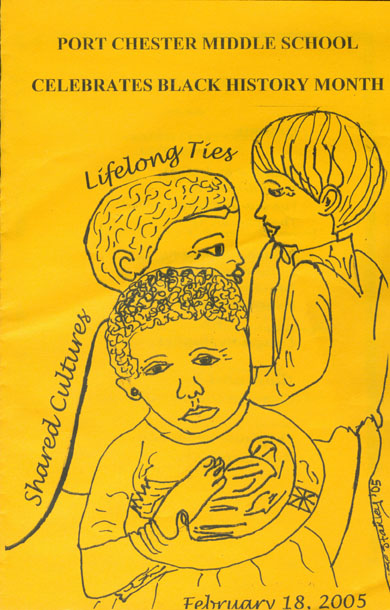 The Rig: 1962 Gibson ES-125TDC (cherry sunburst) and Fender Blues Deluxe amp (single 12" all tube).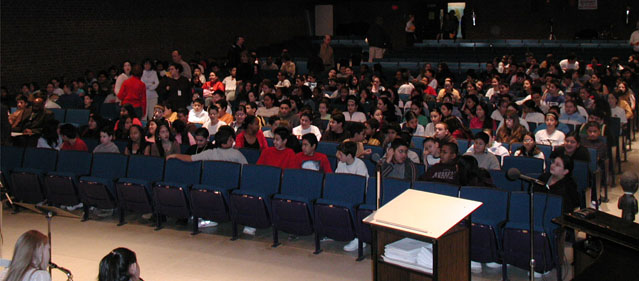 Three shows like this. About 250 kids each show.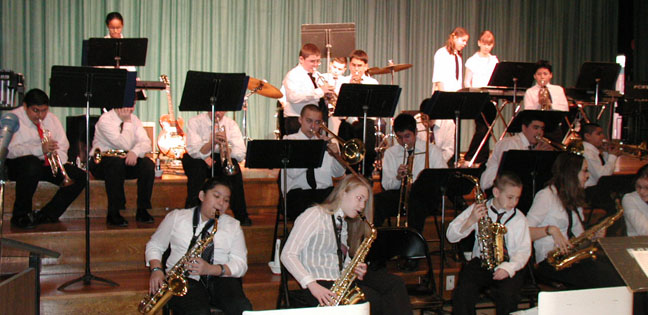 Warming up.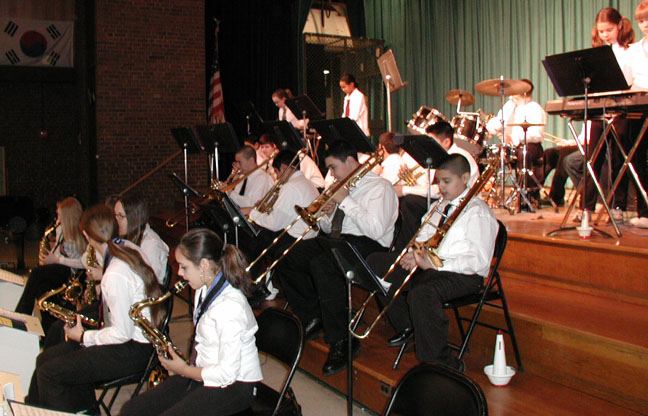 The trombone section. My boys. Only the guy (Abel, in foreground) will be with me next year. The other
three are off to high school. The next guy in is my private student and plays in the Legion Band, the guy after
him plays in the Legion Band and the furthest guy has been my student in school. (But we're trying to get him
interested in the Legion Band as well.)