Port Chester Middle School Jazz Band
December 12, 2003
Port Chester, NY
I run a teaching program for the low brass players (baritone and trombone) at the middle school (grades 6 through 8). Knowing that I also play guitar, the PCMS Band Director, Ken Kraut, graciously invited me to "sit in." Here I am working out. We played 3 shows that day (school assemblies). It was fantastic. These kids wail! Read my thoughts and observations at the bottom of this page.

Dead center: "chopping wood."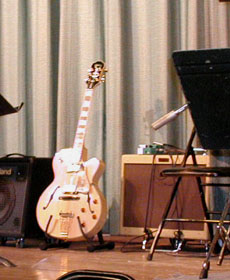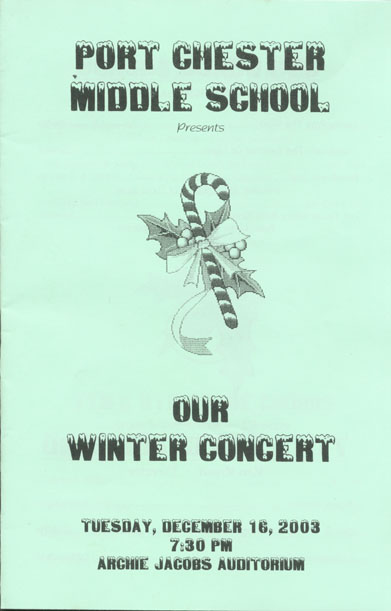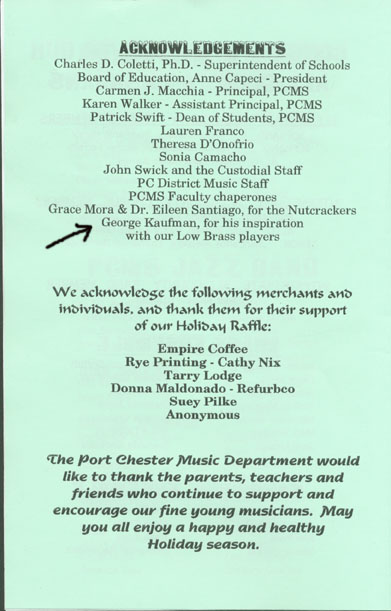 The Rig: Epiphone Joe Pass guitar and Fender Blues Deluxe amp (single 12" all tube). Also shown a copy of the program for the evening performance (for the parents). They gave me my props. I am deeply touched because the results of my work are its own reward.
Program:
Jingle Bells (medium swing)
Jingle Bell Rock (up tempo rock)
Frosty the Snowman (medium swing)
Swingle All the Way (medium swing with jazzier changes)
Have Yourself a Merry Little Christmas (slow ballad)
In addition to the dozen or so low brass players that I work with, I got to know some of the other young musicians in jazz band between shows. I've never been to PCMS with a guitar before (deliberately I might add). I got a chance to play and talk rock music with a couple of drummers and a bass player. The thrill was mutual. Grades are 6th to 8th, ages 10 to 13. There is a huge disparity in development with 6th grades still having a foot in childhood, 7th graders quite a bit larger, and more mature and 8th graders, huge (some quite larger than me), approaching young adulthood. They all have one thing in common: smart as whips. You can't "get over" on kids this age. They know when they're being stroked. I talk to and treat these kids like they're grown-ups. At this age the kids still possess a young innocence and are eager to learn. A tribute to their parents and teachers, there is not a malicious kid in the bunch. This is a characteristic of students in the school music programs - kindler and gentler.
For me, and make no mistake about it, playing this show was for me, I had an absolute ball. When would I ever get a chance to play with a 20+ piece group? Playing music with others is what music is about. Music, teamwork, friendship. (I felt like Brian Setzer center stage.) There was nothing easy about the guitar part. To quote Director Kraut, "you can simplify the horn parts but you can't really dumb down the guitar, drums, piano or bass parts. My preparation (about 15 hours of practice), a 12,000 chord dictionary and many years of professional experience (including knowing Jingle Bell Rock without a chart) paid off. By the third show I was comfortable enough to veer from my "game plan" and loosen up a little.
This group has three 8th grade female trumpets. All three were featured soloists and I was impressed! All three are approaching a professional sound and playing ability. Likewise the whole front (sax) line are young ladies who could all play. The young lady on tenor could wail! It's a tribute to the young musicians (who only rehearse on early mornings before school) plus the respect music educators have for jazz as an art form that has combined to make a first-rate program. My hat's off to Director Ken Kraut and his excellent band of young people for a most thrilling experience. I hope I can make it an annual event.