Port Chester Middle School Sixth and
Seventh/Eighth Grade Chorus
March 26, 2004
Port Chester Middle School
Port Chester, NY
Joan Morenstein is an exceptional music teacher and a hard-banging, swinging piano player. She's been teaching chorus for too many years for me to mention. She buttonholed me at the Middle School where I teach low brass on Friday's, and invited me to play guitar with her choruses at the big spring vocal concert. Since my motto is "Any tune, any time, any tempo," I jumped at the chance. The music was medleys of songs from the movie, "Lilo and Stich," and the Broadway show, "Hairspray."
Show tune medleys have their own problems: segues, modulations, stops, punctuation and breakdowns. I worked from the vocal score with guitar chord letters above the piano part. Sometimes I played off of the piano part and other times I worked from the chords and did my own thing. You must keep your wits about you. Also I was cueing the drummer so I couldn't get "lost in my work." I had a chance to rehearse a few times with each chorus. Working with these young singers was so much fun. The had a tendency to be "unruly" during the school-time rehearsals. But both choruses knuckled down on performance night and gave stunning performances. I'm a seasoned performer but I got a momentary hot flash (beads of sweat on the forehead) and a tinge of butterflies when I looked out at the audience and the auditorium was filed with 500 parents and many of them knew me! I felt the pressure. There's no pressure playing for strangers.
I chose my teal green American Fat Strat coupled with my Fender Blues Deluxe (all tube) single 12" speaker guitar amp. The teal green paint job on this guitar is stunning and the kids loved the instrument. I had a chance to "kick it" playing a Scotty Moore-style solo in "Hound Dog" in "Lelo" which uses a number of classic Elvis tunes. It was so much fun. I tell the kids its called "playing" music because it is so much fun - otherwise we'd call it "working" music. Hope to do it again.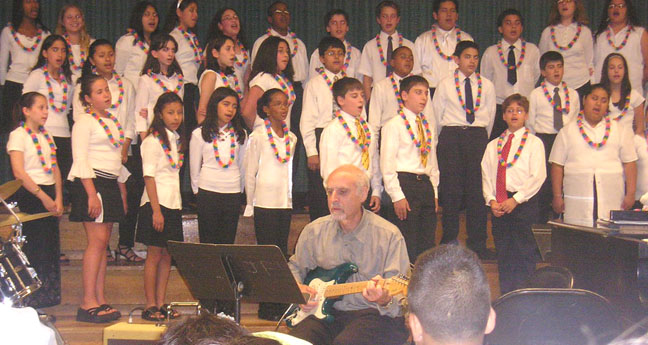 "Lelo and Stitch" with the 6th graders.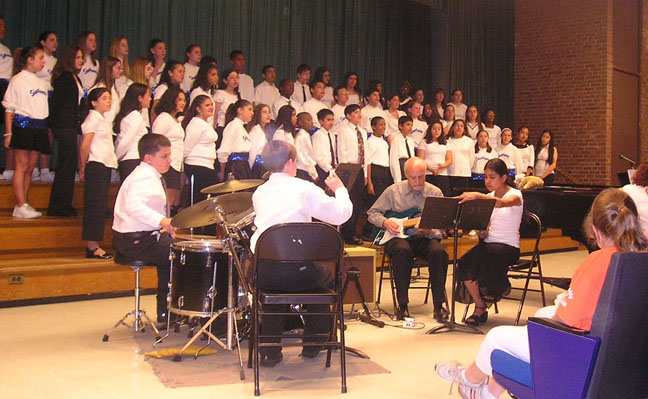 "Hairspray" with the 7th and 8th Graders. (Young drummer, Greg Guarino was phenomenal).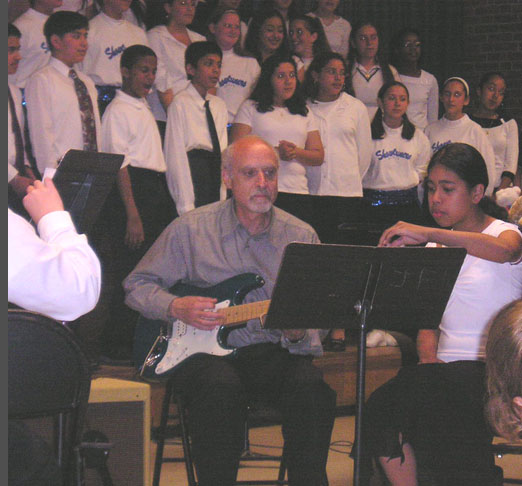 "Reading the chart"
Below: I do it for the kids but I feels good to get some "props" myself."